The Radar Pages
Radar, Cold War and Service links and Contacts
Try these links - but bookmark this site first and come back soon!
| | |
| --- | --- |
| | Note: A lemon alongside an item indicates that the link is not workin g at present. If anyone can provide a correction please get in touch with me via the Contact the Editor page. Web masters: Please keep me advised of current URL's, you don't want to lose any visitors! |
---
Exhibits, museums and virtual museum sites: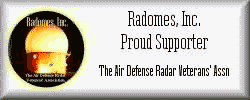 Radomes, Inc is a US site that was the inspiration for "The Radar Pages" and looks at all aspects of US air defence radar. The museum pages are an invaluable resource and there are numerous features to explore including forums, site rosters and a rapidly growing guest book. Several types of radar used in the UK during the Cold War were of US origin and can be found in these pages. There are extensive links to other Cold War and radar resources. More than worth a visit, you can see this site by clicking on the logo.
Describing itself as Scotland's best kept secret is "Scotland's Secret Bunker", a former "Rotor" R3 building near Anstruther, Scotland, that was converted for Civil Defence use. This place is well worth a visit and you can still make out the layout of the original radar station if you know what to look for. There are several external exhibits in addition to the bunker, unfortunately they spoiled it a little by placing a small and very out of place airfield radar aerial on top of the Type 80 modulator building! The web site hardly does it justice either, but you can still get a feel for the Cold War at: http://www.secretbunker.co.uk/ If you are interested in Cold War sites, this is a safe place to take the family and get a touch of the atmosphere of the Cold War (See Warning! for some words of advice regarding technological and Cold War artifacts).
The Muckleburgh Collection, featuring a Type 87 radar and a Thunderbird missile amongst many other fascinating exhibits is located at Weybourne Military Camp, Weybourne, Holt, Norfolk, NR25 7EG. They have a web site at http://www.muckleburgh.co.uk/ giving an overview of the museum, location maps etc.
The Centre for The History of Defence Electronics or CHIDE Museum had a fascinating site at http://histru.bournemouth.ac.uk/CHiDE/CHiDE.htm that is going through something of a renaissance at present and is evolving into a very useful resource.
---
Researchers and enthusiasts sites:
Formed in 1974, Subterranea Britannica is a society devoted the study and investigation of man-made and man-used underground places. It brings together people with an interest in all types of underground space - from deneholes to dug-outs and from souterrains to subways. In addition to the well researched articles there are links to a wide variety of other web sites dealing with these matters. Check out the Research Study Group pages at http://www.subbrit.org.uk for information about British military and civil defence bunkers. There is a good Rotor article at http://www.subbrit.org.uk/rsg/features/rotor/

The RAF Boy Entrants Association provides a "snap shot" of the Royal Air Force Boy Entrant training scheme and allows you to join with us in remembering a very important period of history to us as individuals and the Royal Air Force, between the years of 1934 and 1965.
Norman Down has put his R.A.F. Bempton web site together at www.rafbempton.co.uk There are lots of photographs, anecdotes and some local history to view. Norman is putting a "Station Roll" together so if you were there pop along and add your name to the list.
Don Adams has put his R.A.F. Ventnor site together at www.ventnorradar.co.uk Don has recalled his time there in an excellent example of Oral History.
Ray Shakeshaft is building an R.A.F. Bawdsey web site at http://raf_bawdsey.tripod.com/index.html Get in touch with Ray and add your name to the Roll Call. Ray is also looking for anecdotes and photographs so get busy folks, get out your pens and search the attic, help Ray to get this long over due web site up and running.
Jerry Proc has put an excellent site that looks at the theory and practice of Hyperbolic navigation systems. You can see his work at http://jproc.ca/hyperbolic
The "Signals Collection '40-'45" is a Dutch non-profit foundation whose aim is to conserve & preserve allied army, navy & air force radio & radar equipment which was used and or built by the allies during the second world war. You will find the site at http://www.qsl.net/pe1ngz/home.htmThis site also includes The Radio & Radar discussion forum. This is a discussion forum on World War II Allied Radio & Radar equipment where you can post your radar and radio questions and also respond to other readers questions. You will find this site at http://www.network54.com/Hide/Forum/19487 but please be warned, this site spawns additional windows containing advertisements.


The Association of Royal Air Force Fighter Control Officers web site was established in 1990 by the Fighter Control Association with the general aims of furthering the recognition and identity of the Fighter Control Branch of the Royal Air Force and to unify and sustain a spirit of comradeship among serving and retired members of the Fighter Control Branch. Little of the important work carried out by these men and women has been published to date so few people outside of the air force know about the dark and little known world of the "Scopie". You can find out more at http://www.raffca.org.uk/
Greg Goebel has put together a comprehensive web site at http://www.vectorsite.net/index.html that covers a wide range of interests. Of special interest to radar researchers is the section entitled The Wizard War: WW2 & The Origins Of Radar at http://www.vectorsite.net/ttwiz.html
These Bloodhound and Thunderbird links also look interesting:
http://www.braw.co.uk/bloodhound/bloodhound.htm

http://www.braw.co.uk/thunderbird/thunderbird.htm

Chris Gibson has done some sterling research in to project code names. Some bods at "The Ministry" must have had lots of fun coming up with names like "Green Garlic" and "Indigo Corkscrew". I often wondered if we came up with these code names to help the enemy identify things. To find out more see Chris's United Kingdom Aerospace Projects and their code names pages.

Don Burluraux has some beautiful illustrations of a Chain Home site on his RAF Danby Beacon Radar Station - 1942 page at http://homepage.ntlworld.com/don.burluraux/rafdanby.htm The quality of Stuart McMillan's work in the illustrations and maps has to be seen to be believed.

Gardner L. Friedlander has put a nice Oral History together at http://freepages.military.rootsweb.com/~memoirs/ describing his radar experiences with the U.S. Army Signal Corps during the Second World War. Gardner put the history together for his children; it does not contain descriptions of the violence of the war thus making it a nice, safe site for young people to visit. The text is lively and engaging and there are many interesting graphics and pictures. Gardner's site ranks as one of the best of the genre.

John Levesley has updated his excellent RAF Sopley site. Sopley rarely gets a mention so it's good to see it being publicised.

Martin Hollmann's Radar World has come on nicely and has a lot of excellent information including extensive information on early German developments that you will not find anywhere else on the www. Martin has dedicated Radar World to his father, Dr. Hans Erich Hollmann. Dr. Hollmann worked extensively on microwave techniques and applications and many of his ideas and inventions became the cornerstones of modern radar and microwave techniques. You can find Martin's site at http://www.radarworld.org.

Scott Murdock's USAF INSTALLATIONS PAGE! is a great resource and a definitive example of how to go about researching old installations. You can see his first rate site at http://www.airforcebase.net/. Check out Scott's hilarious "You Might be a Gung Ho Military Base Researcher If..." page at http://www.airforcebase.net/gungho.html

Gun nuts can find out more about the SLR (Self Loading Rifle) at http://www.falfiles.com/
Larry Wilson's site is well worth a look, Larry's been busy web building and telling the radar story of the Royal Canadian Air Force. There are sections on the Dewline, the North Warning System, the Pinetree Line and the Mid Canada Line as well as an extensive veterans contact system.
Ren L'Ecuyer has a good description of the Pinetree Line in Canada at http://www.pinetreeline.org/
Bob Caggiano is telling the story of the Pinetree Line base at Melville Air Station, Labrador, Canada at http://melvilleairstation.tripod.com/
---
British veteran's organisations web sites:

"Tell this young man that when veterans get together, it does not matter who won or lost. It is enough that both survived"
Admiral K. A. Makarov (Quoted in "Blind Man's Buff")

The Royal Air Force Association web site can be found at: http://www.rafa.org.uk/


---

<>

The Royal British Legion web site can be found at:<>http://www.britishlegion.org.uk
---
Lost Tracks:
A collection of links to researchers and enthusiasts sites that no longer function. Any clues?
Richard Vernon has his Bloodhound missile site at http://www.bhmk2.net/ Richard worked on the Bloodhound system whilst serving in the Royal Air Force. He worked on the Missile Servicing Flight at RAF West Raynham on the Bloodhound Mk2 from 1985 to 1989 and after seeing the Nike sites in the United States, has decided to try to produce the 'ultimate' SAM site on the Net. He is well on his way to this objective.
The Early Warning Connection - David Words site is an extensive collection of Cold War and Early Warning links. You can find him at: http://earlywarning.westgeorgia.org/
Sqn Ldr T Howard Toon BA CertEd MBCS CISP RAFVR(T) has put together an interesting site at: http://schoolsite.edex.net.uk/468/truleigh.htm This site gives you an overview of "Rotor" and records the history of radar at Truleigh hill, West Sussex, England.
The Association of Old Crows "Journal of Electronic Defense" is available on line at http://www.jedonline.com/ You'll have to register but it costs you nothing to access this invaluable resource. The EW101 section is a gold mine of radar and jamming information.
Find out about the shadowy world of electronic counter measures (ECM) from the Association of Old Crows which has its own web site at http://www.crows.org
Well worth a browse is George Burville's "RAF Apprentices and Boy Entrants on the WWW" site. This site has become something of a Mecca for all ex-brats trying to trace their roots and their long lost mates. There are lots of links to web sites built by ex "Brats", an E-mail cen tre where you can look for old pals and lots of other interesting items. Sadly George passed away whilst visiting family members in Canada over Christmas 2000 however his site is still available at: http://www.appbe.com/